When we decided we would head to Alaska this summer, I was a bit nervous about how safely I could eat while there. This is a usual fear for most of us celiacs as well as gluten intolerant folks, but the thought of Alaska compounded it quite a bit. However, my fears were unfounded as I discovered that in Alaska it is actually quite easy to find gluten free options (where it's populated of course 😉 ). For those of you, gluten free or not, taking a trip to the Last Frontier sometime soon, take a look at these great restaurants in Fairbanks, Anchorage, Denali/Healy, and Seward, all of which have gluten free options.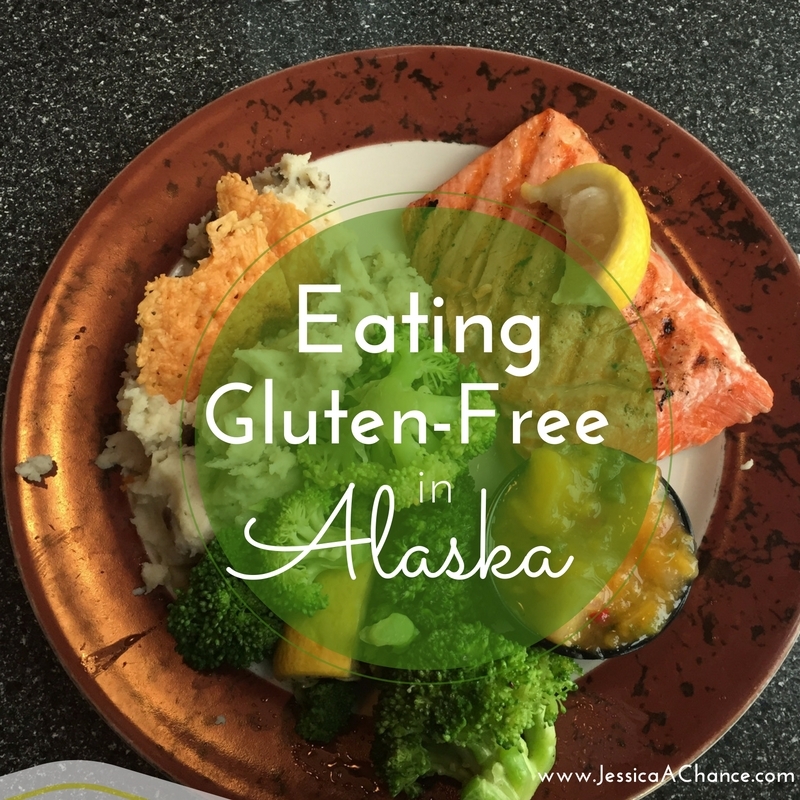 FAIRBANKS
Take 5 is an excellent option in Fairbanks. Their chocolate cupcake was seriously the best I've ever had (gluten free or not), and I went back later in the stay to get another one. We also went for brunch one day — all their pastries/desserts/breads in the case are gluten free and most of their menu items are or can be modified to be. They were knowledgable as well. Highly recommend!
This is another gem in Fairbanks that I wish was in Winston-Salem! They were extremely gluten-free intelligent, their GF menu had so many choices, and their bread/dessert options included bagels, pastries, donuts (!!!), cakes, and cupcakes. This is a must eat at if you're in Fairbanks.
We stopped by River City Cafe and Expresso before going hiking. I was pleasantly surprised at their knowledge of cross contamination – they cleaned surfaces, changed gloves, and warned me that they couldn't toast my sandwich bread. They had me verify the chips' ingredients as gluten free, and were overall considerate and kind of my needs. Their BLT was delicious. Great place for lunch — their coffee/tea was good as well!
DENALI/HEALY
Whether you are visiting or driving through Denali — this is a great morning coffee and GF snack stop. I believe they also offer a full menu for meals with gluten free options, but since I didn't try any "real" foods, I can only review their apple cake and hot tea. Both were delicious!
Since my sister and brother-in-law told us that friends of theirs will drive two hours to have dinner at 49th State before driving another two hours home, we had to try it. The fact that they had gluten-free options marked on the menu made it an easy choice for dinner two nights in a row after exploring Denali. The first evening was awesome! I got the tacos and although the picture above is dark, they were delicious!! We also had dessert — a nutella chocolate cake. Our server that evening was fantastic. He made sure my food was prepared safely.
However, the second night was not as good. My hamburger came with a gluten-free bun, but they put croutons on my salad after specifically requesting none and telling them why. They also tried to give me cross-contaminated french fries. They remedied the mistakes, and I didn't get sick, but my confidence in their ability to feed celiacs safely diminished quite a bit. Therefore, I would proceed with caution with this one.
ANCHORAGE
Moose's Tooth Pub and Pizzeria 
One word: GO. Moose's Tooth was a pizza lovers' dream!! I guess I should take into account it was 9pm, and we were all ravenous from not really eating since breakfast, but I don't think the deliciousness would have been much different at any time of day. As you can see, they have special procedures for gluten free pizzas (the foil pan underneath mine), and our waiter was excellent with his knowledge of GF. The true test: I didn't get sick.
SEWARD
First — Seward has very few gluten free options. That being said, we mostly ate at our campsite. But for our last evening, we wanted to go out. I found Ray's on my FindMeGF app, and it had fairly good reviews with a separate gluten free menu. I got the salmon (when in Alaska…) and even though I'm normally not a seafood fan, it was good. Ray's was packed and our server seemed overwhelmed; however, she answered all my questions about cross contamination correctly, and I did not get sick.
***
I hope that list was helpful for you! For more resources, I recommend:
Find Me Gluten Free Website/App
This comprehesive post from Allergy Free Alaska: Eating Gluten-Free in Alaska
***
Have you been to Alaska? Where were your favorite places to eat?