We made it to Friday again! Whohoo! Hope everyone has had a good week! This week marked the end of a pretty crazy travel/work schedule for both of us, so we are happy to be getting into more of a routine in the next couple of weeks. However, the most exciting thing coming up is that my parents are coming into town today! My dad hasn't been out here to NC since we've moved, and my mom came just after we arrived, so needless to say, I'm excited to show them both some of our favorite spots now that we are "seasoned" (haha) North Carolinians with a whole year behind us!
As always on Fridays around here, below are some little things in life and around the web that made my everyday extraordinary this week! I would love to hear yours in the comments!
Life Lately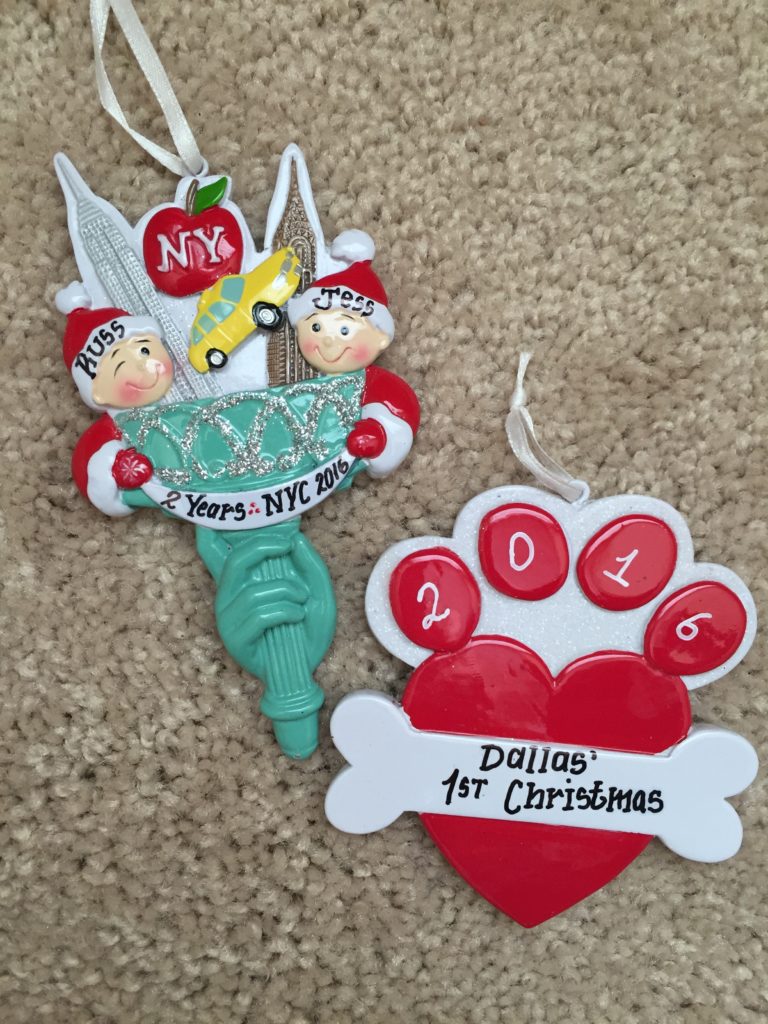 NYC Christmas Ornaments. If you know me personally, you know I've been "collecting" Christmas ornaments for years — buying one wherever I travel so decorating the tree is opening a box of wonderful memories from across the globe. I love these personalized ones I bought in NYC — and of course, Dallas needed a first Christmas ornament too 😉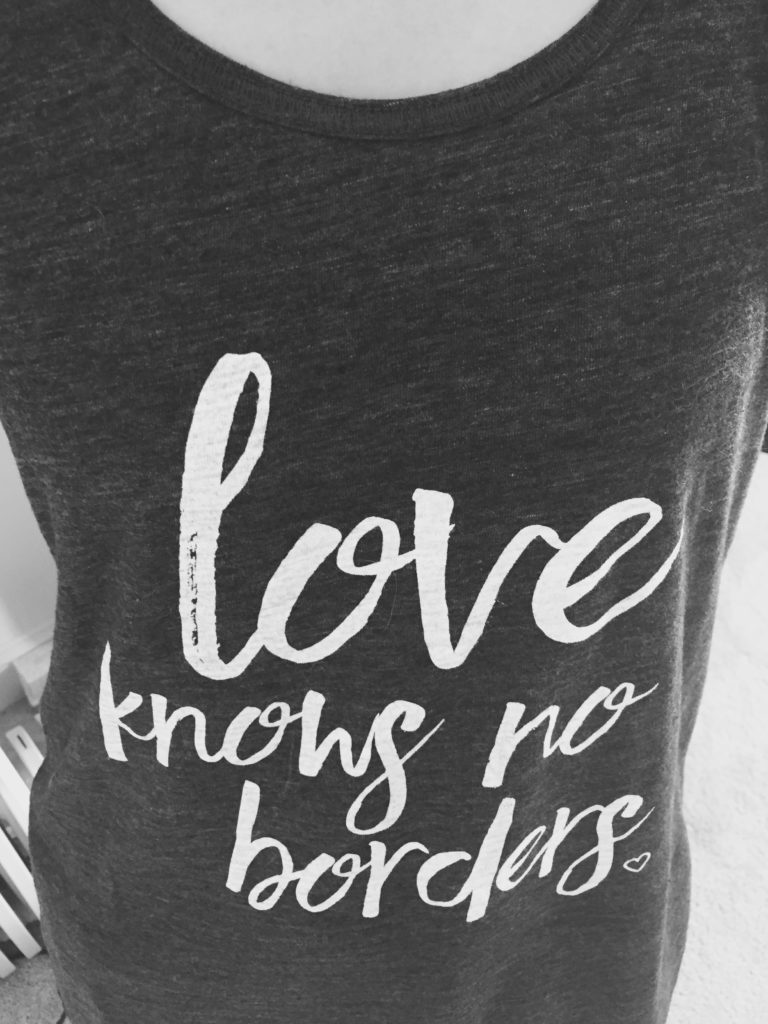 My "Love Knows No Borders" Tank. Jeff and Mandy Rose, of House of Rose blog and the Marriage More podcast, just adopted a little girl from the Philippians (it's an amazing story — check out her blog!!). They sold tanks and t-shirts where all the proceeds went to help their daughter's former orphanage. I love this tank — not only is it comfortable, but I especially like its pro-adoption message.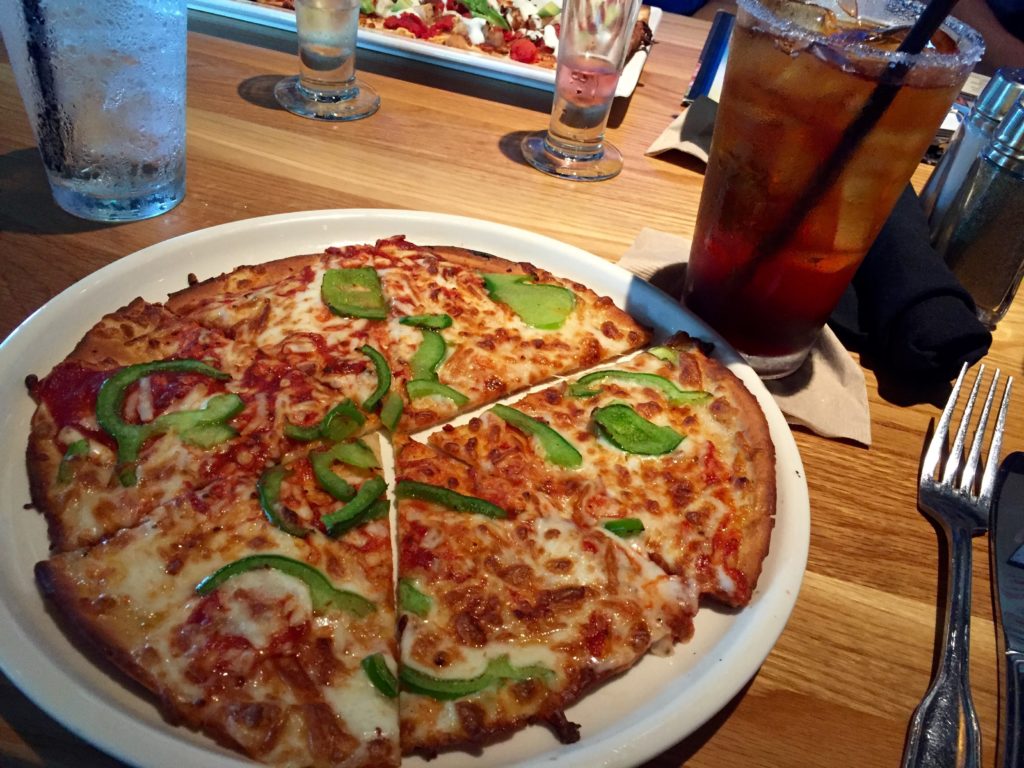 Sunday Lunch with Friends. We've been gone so much this summer that it was a special treat to go to lunch with another couple from our small group after church this week. We tried the new BJ's Brewhouse in Winston, and just like in Dallas, it didn't disappoint. Their gluten free pizza is awesome and my Peachberry tea was delicious as well! (Also – they have a GF cookie for dessert!!)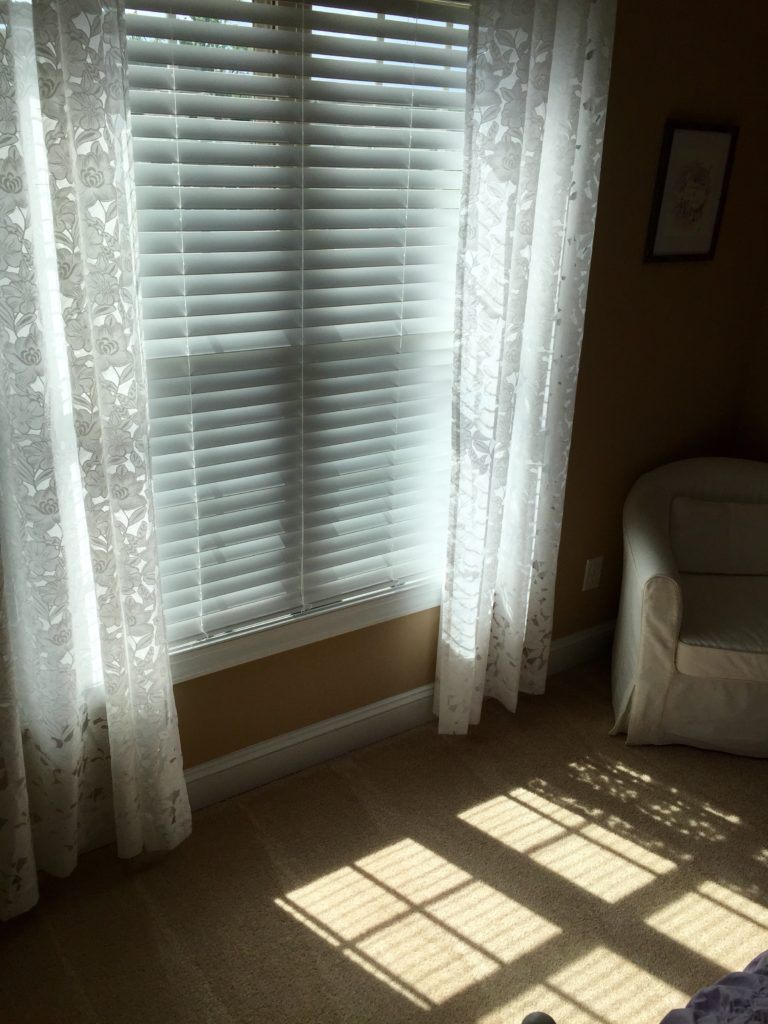 Sunshine Streaming. The weather here has been so unpredictable lately — one moment it's pouring rain, the next sunshine. This pattern then repeats three or four times throughout the day! So when I caught evidence of the sun making its appearance known in our guest room, I couldn't resist capturing it.
Anniversary Flowers. In case you missed it, we celebrated two years of marriage this week. My sweet husband showed up before our dinner date with these beautiful blooms in hand. He said he told the florist I liked purple…and she created this! Well done. Love having fresh flowers around!
Dallas the Dog Picture of the Week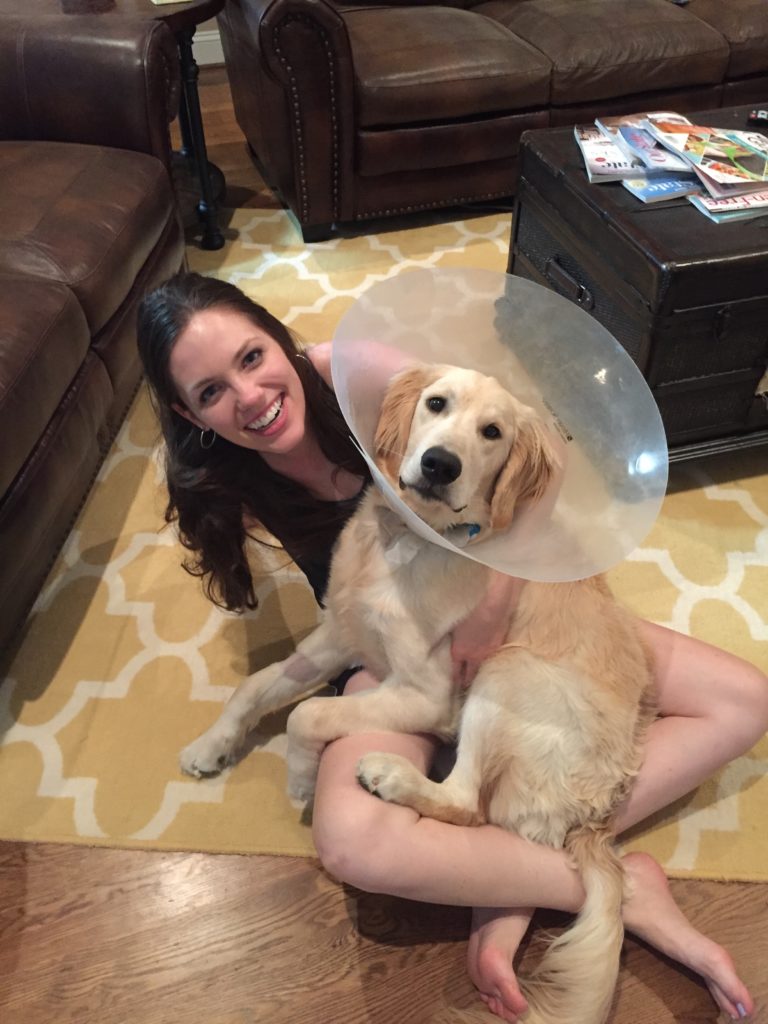 Our poor buddy, Dallas, has had a rough week in the "cone of shame" (Up (the movie) reference? anyone??! 🙂 ), but I'm happy to report he's on the mend, still as cute as ever…and still trying to be a lap dog at almost eight months of age!
Links Lately
"The real joy of daily work is in what we have to give. We are not fulfilled by what we can seek to please us, but what we can build and offer. It is not fame, or money, or recognition that makes for a thoroughly meaningful life, it is how we put our gifts to use. It is how we give." One of the best articles I've read lately by Brianna Wiest — You're Not Meant to Do What You Love, You're Meant to Do What You're Good At
We celebrated two years of marriage this past week; so I can only dream about doing a photo shoot to celebrate sixty-three years like this adorable couple did. 
"The moment I received these recent medical test results was the most bittersweet moment of my life. I saw hope, but I saw darkness on the way to reach that the promise of better health. I knew that getting to the light, to the place of healing, was going to be the hardest journey I have yet to travel, and it shook me at my core." As someone who also deals with chronic disease this post, The Bittersweetness of Medical Test Results by fellow hope*writer Emily Lofgren, eloquently captures the emotions that accompany diagnosis.
In my nursing career, I worked as a transplant coordinator for a brief time back in Dallas — so this story in the NY Times — Bride is Walked Down Aisle by the Man Who Got Her Father's Donated Heart — made tears come to my eyes. A beautiful rising from the ashes of tragedy is represented in this story – just like choosing organ donation can be.
Yummy Link of the Week: One of my favorite food bloggers, Jessica at How Sweet Eats, has such amazing recipes – you'd like proof? Exhibit A: Double Chocolate Chunk Raspberry Stuffed Cookies
***
Have an amazing weekend, everyone! 
***