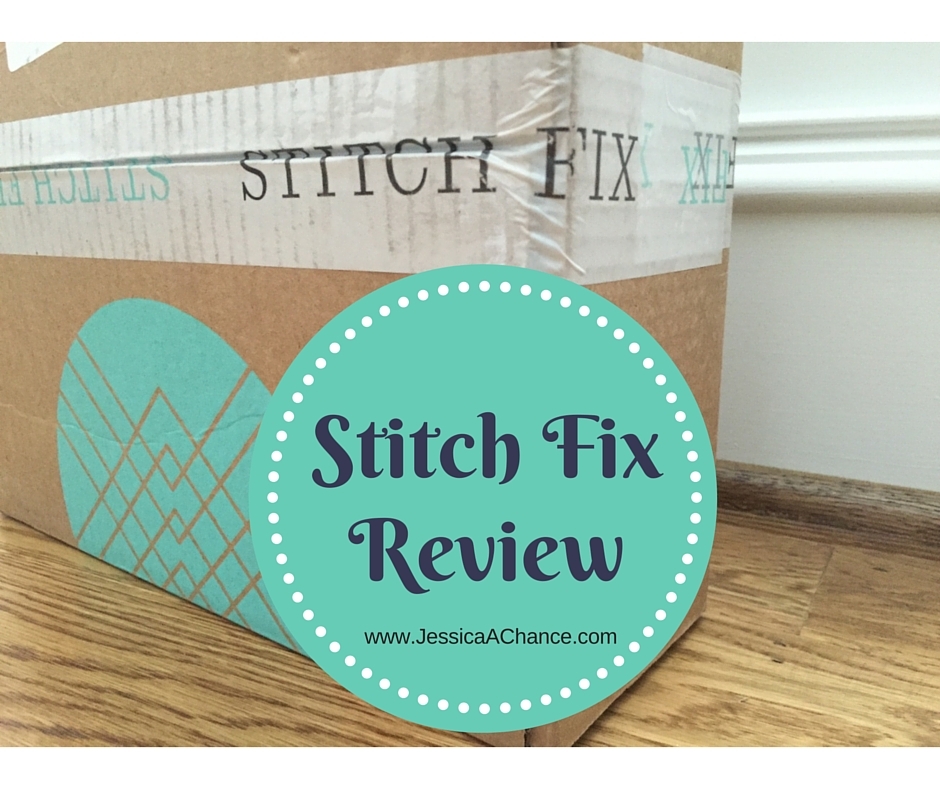 Happy last full week of August which means happy Stitch Fix Day for me 🙂 If you haven't heard yet, Stitch Fix is a styling service that will send you five pieces of clothing, shoes, and/or accessories for a $20 styling fee. That fee is then applied to the total cost of the clothing you decide to keep. If you keep all five, you get a 25% discount. You can get fixes monthly or less or more often based on your preferences. You fill out a style profile and leave a note for your stylist on what you are looking for in each fix. Once you give it a try, you will receive a personal referral link that will give you credit for referring your friends.

For my August fix, I asked for layering pieces, a maxi dress, and pants/capris of a non-basic color. I received some pretty clothes as always, and I have so much fun opening the box and seeing what was sent!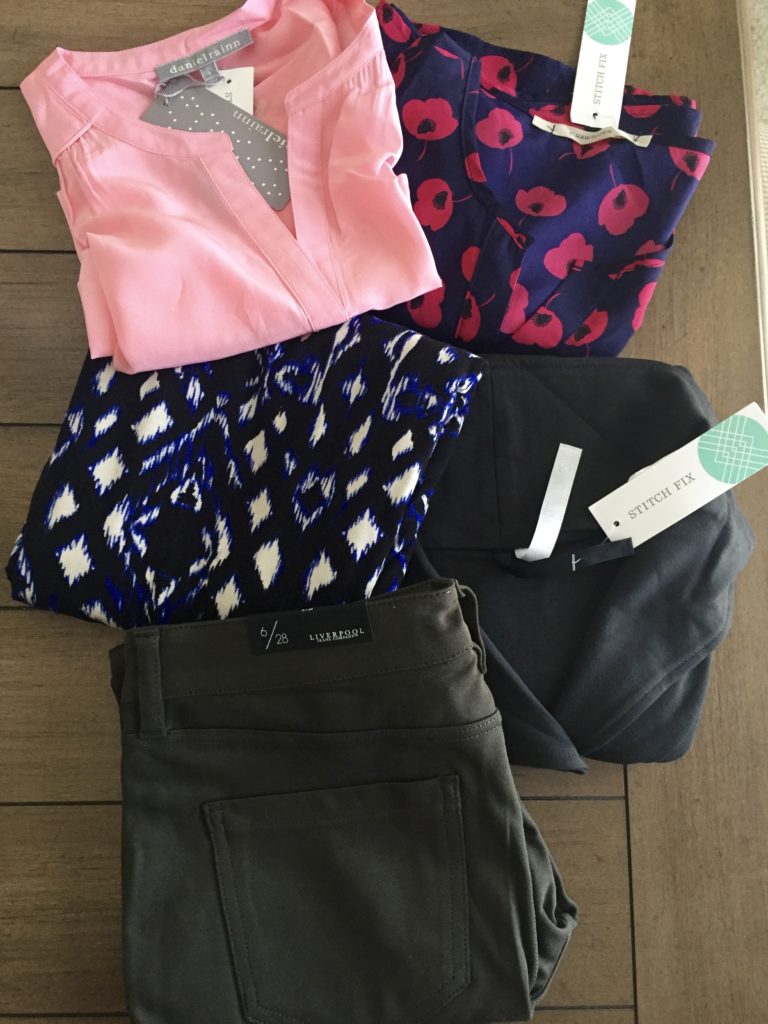 41Hawthorn Ivy Split Neck Print Blouse. I loved this shirt from the moment I took it out of the box. It's feminine, floral, flowy but still has shape, and has 3/4 sleeves. Everything that makes a shirt one of my favorites right there! This was a "no brainer"–> Keep.
***
Loveappealla Jesse Knit Maxi Dress. The only thing that stopped me from keeping this dress was the pattern. I loved the comfy fabric, the fit/cut, and the idea of having a summer-to-fall maxi. However, I felt the colors/pattern were not my style so this one I had to –> Return.
***
Daniel Rainn Vivienne Splint Neck Silk Blouse. This blouse boasted such a beautiful color that I was almost positive it would be added to my closet; however, once I tried it on, I had second thoughts. I liked how it looked with jeans, but when I tried to layer it for the fall weather coming up, it just wasn't flattering. So I thought maybe it could be a (very) early investment for next spring/summer, but with white capris, it felt too big, too flowy  —> Return.
***
Liverpool Anita Skinny Pant. Unlike the two shirts I received in this fix — I disliked these pants the moment I opened the box. Why? The color. The pictures make it difficult to tell, but these pants are olive green. I'm not a fan. I don't know what to wear with olive green or how to style it, although my stylist said it's very versatile. Once I tried them on, they weren't as bad I thought, but they were way too long and unless I wore boots, you could see the bunching around the calves. Return. 
***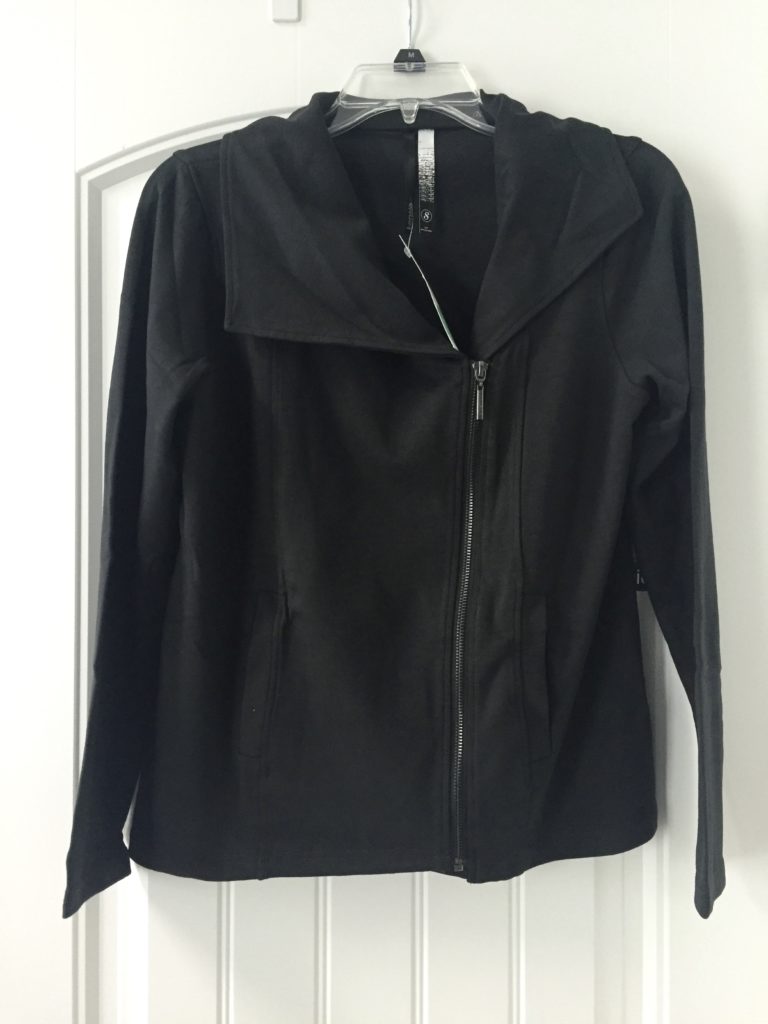 Kensie Mallo Ponte Jacket. My stylist sent me this jacket because I had requested cardigans or layering pieces, but she didn't have any cardigans at this time that seemed to fit what I wanted. I appreciated the thought of this jacket — I wear jackets a lot since I'm always cold — but the asymmetrical zipper and large collar made this jacket feel more like a actual top you would wear instead of a layering piece. I didn't love it on, and have plenty of black tops in my closet right now. Return.
***
Overall, I thought this was a pretty good fix — the pieces were mostly what I had requested, and I know the shirt I kept will get so much use this fall, winter, and spring! I'm keeping the same stylist (Sara T.) for each fix when possible right now, and I think that makes a huge difference. Stitch Fix still makes my everyday extraordinary, and I'm excited for my next box 🙂
***
Have you tried Stitch Fix? What were your thoughts?
***
 Previous Fixes that have been featured on the site: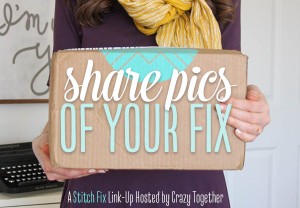 ***
{Disclaimer – I have enjoyed Stitch Fix so I am sharing with you – I was not asked by the company to review the service. All opinions are my own. There are referral links in this post. Thank you so much for reading!}