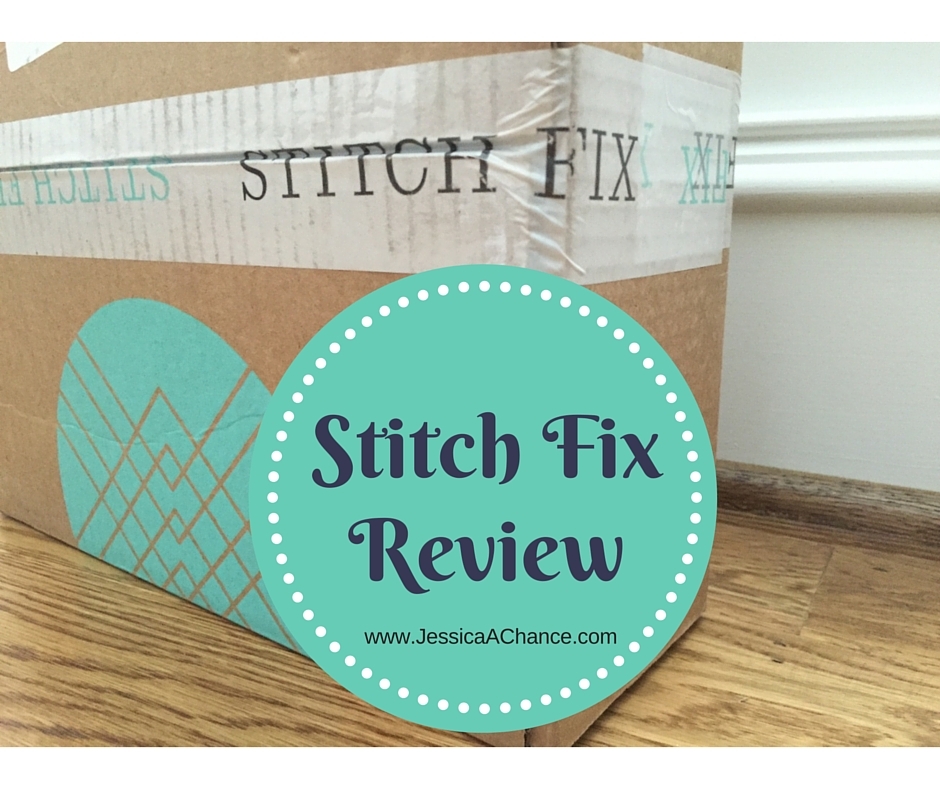 It's September Stitch Fix (<–referral link) time! I was so pleased with my fix this month! Sara, my stylist, captured my style almost perfectly in the pieces she sent, and I was extra excited to find a wardrobe staple I've been searching for since last season!
As y'all have probably heard, Stitch Fix is a styling service that sends you five items as often as you'd like (usually on some type of schedule) for a $20 styling fee. The fee is then applied to your final bill. If you keep all five items, you get a 25% discount! Before you get your first fix, you fill out an extensive style profile to help your stylist get to know you. You can also send your stylist a note before every fix with your requests. I find the more you pin to Pinterest in regards to your style preferences and desires, the better the service gets! I also recommend requesting the same stylist over and over so they can really get to know you.
Without future ado — here is my September fix! (Please excuse the photo quality — it was a dreary day, but due to my schedule, I didn't have the luxury to wait for some sunshine to brighten up these photos…)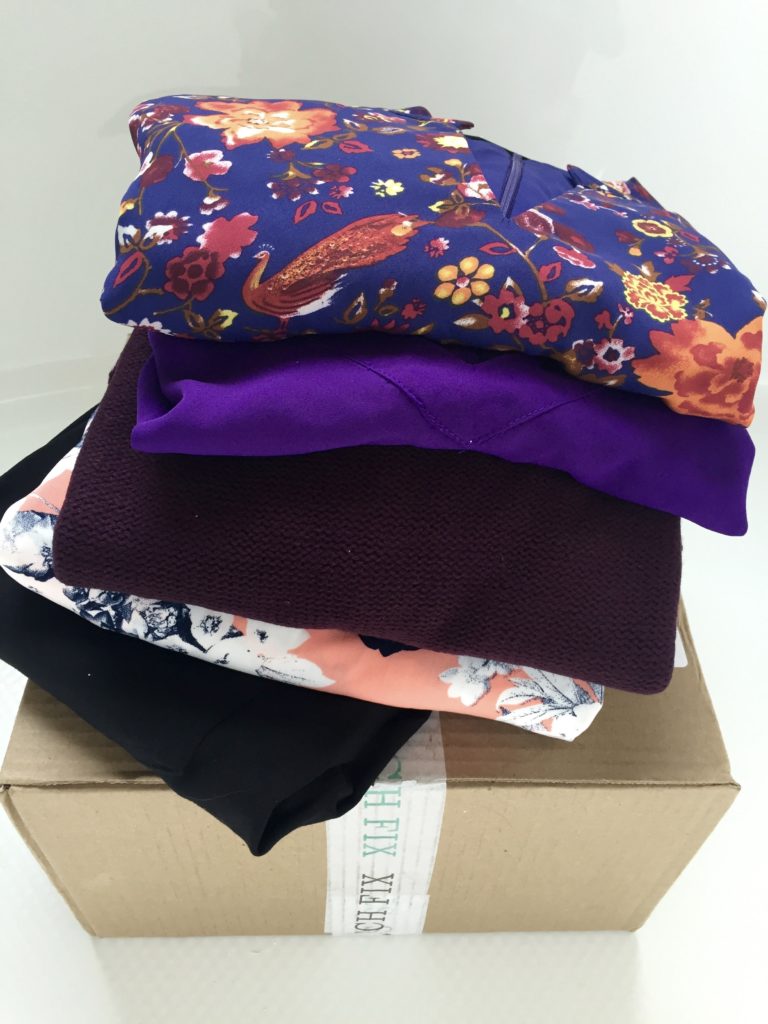 Market & Spruce Brookline Mix Material Sweater 
This fall sweater was warm and comfy with a fun detail in the back with the zipper and panel. However, I just didn't love it – not sure if I can pinpoint the reason why, but I didn't want to buy it without knowing I would wear it all the time. The color isn't completely accurate in the photos — it was a beautiful dark burgundy/plum color. Return.
***
Brixon Ivy Elmar Embroidered Cutout Blouse with Liverpool Rizzo Skinny Pant
For those of you who know how much I adore the color purple, you can imagine my excitement over this top. However, I wasn't quite sure about the cutouts on the sleeves, so before I tried it on, I was hesitant. However, once on, I loved it. The detailing wasn't too bohemian or girlish, the v-neck kept it modern, and I loved the fabric and fit. I think it will be great to layer for both casual and dressy occasions this season (of course, if it stays this hot, I'll be wearing it for quite some time without a sweater!!) Keep.
The black Liverpool pants were a personal request of mine. I have a burgundy pair from a previous fix, and I love them! I need a black skinny for the winter, and these are perfect! I love the cross between a legging and a thicker pant because I'm always cold so I appreciate the extra "insulation." I know I will live in these this winter! Keep.
***
Pixley Florinda Dress
After I tried this dress on and took the pictures, I thought about how cute it would have looked with brown boots! However, I knew from the moment I pulled this dress out of the box that I wouldn't be keeping it. The pattern and fit were good, but the style and cut were completely different than my personal style. Return.
***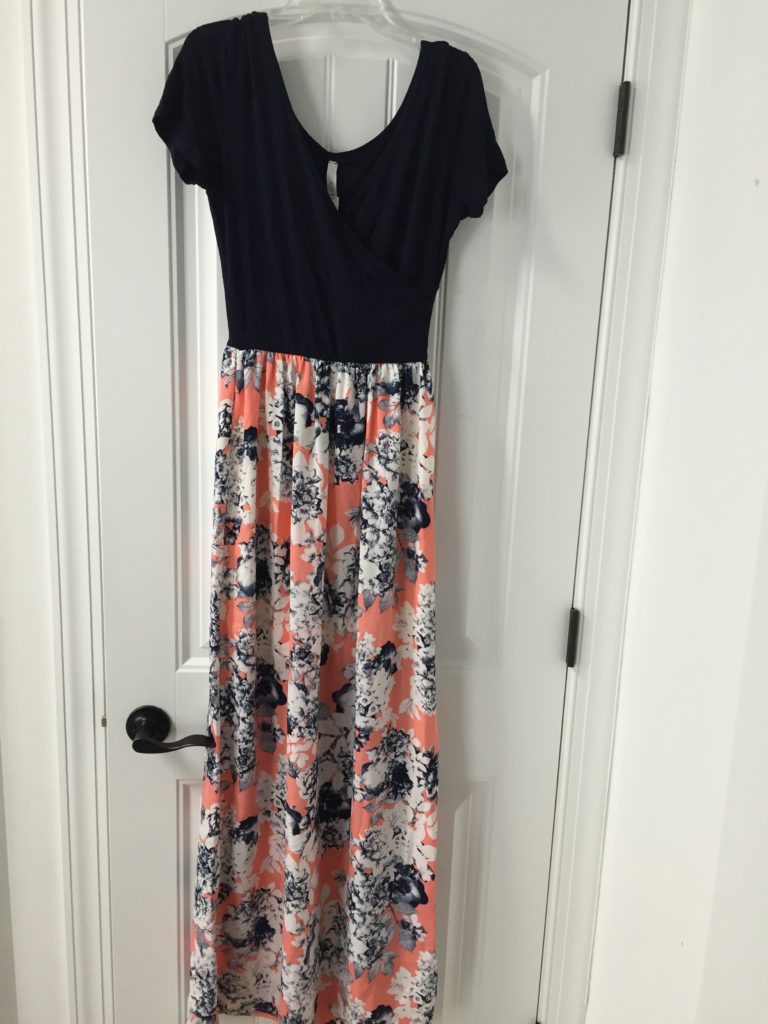 Gilli Ryland Maxi Dress
This was SUCH a pretty maxi dress! Because the pictures make it look darker than it was — the top on this dress was a deep navy blue and the darker spots in the floral pattern were also navy. The fit on this was perfect, and I loved the feminine pattern. However, I felt the dress was still more of a spring/summer piece and when I tried to layer it with a cardigan, it just didn't work (Also, shoes?! No sandals during the winter — I guess flats? I'm so not a fashion blogger…) Long story short — Return –– if it was April instead of September, this would be in my closet.
***
Have you tried Stitch Fix or another styling service? What did you think?
***
Previous Fixes that have been featured on the site:
***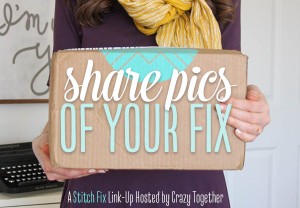 Linking up with Maria again this month — she has great monthly reviews and pictures of her Stitch Fixes on her site as well as features a monthly link-up for Stitch Fix bloggers across the web — check out her September post for more fun fashion!