September is almost halfway through, and surprisingly, my reading life is better than it was over the summer! With graduate school, I'm on the computer so much so when I have free time, it seems natural to pick up a book and become lost in the pages. Most of this year, I've felt disconnected from reading — not able to completely engage in a great read, but I feel the tides are changing. Reading Hope Heals this month was challenging yet refreshing, and I found myself completely immersed in Katherine's story. 
What have you been reading this month?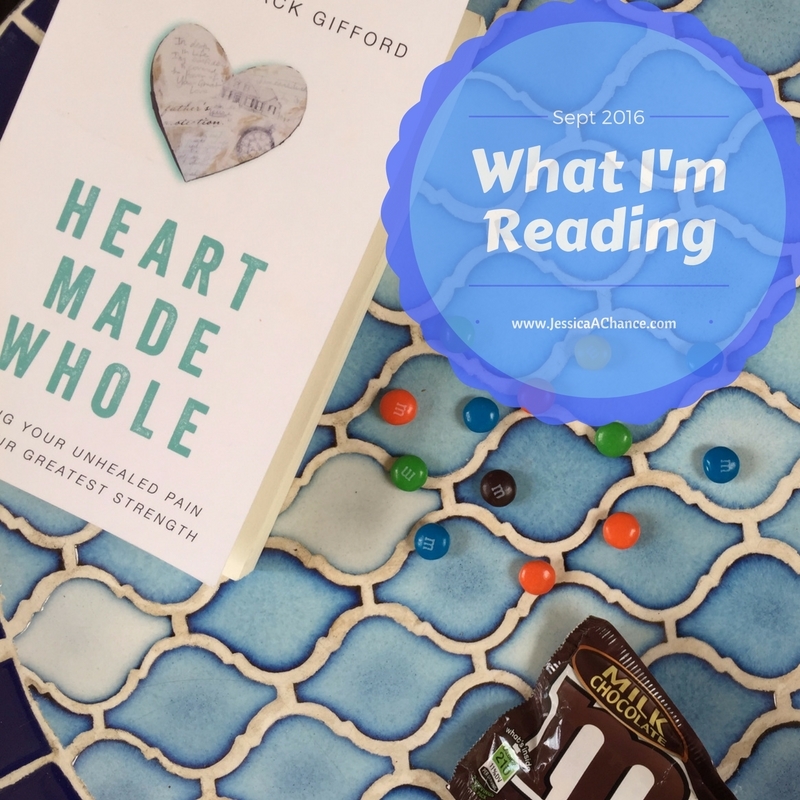 Read this Month
Hope Heals: A True Story of Overwhelming Loss and an Overcoming Love by Katherine and Jay Wolf – I heard Katherine's story for the first time at the IF Gathering this past February. I was immediately intrigued, and since then I've heard her speak on podcasts, so when her and her husband's book was on sale, I snatched it up. I'm so glad I did. At twenty-six, Katherine suffered a massive brain stem stroke from which she should have died. A young wife and new mom, Katherine's incredible story of finding hope amidst the rubble of her former life will encourage you in all areas of your own life. (5/5)
Choose Joy by Sara Frankl and Mary Carver – another beautiful story of joy, grace, and hope during the hardest of human suffering. Diagnosed with a terminal autoimmune disease at a young age which led to being completely homebound in her 30s, Sara had every justification for being bitter — but instead she chose joy every day and shared that joy with others on her blog before her death. A must read. (5/5)
The Secret Life of Bees by Sue Monk Kidd – This was my first book by the famous Sue Monk Kidd — and I wasn't disappointed. Her character development was brilliant, and I felt like I was losing friends when the book ended. This coming of age story addresses intense issues like race, abandonment, and self-worth; yet it balances the hard with sweet friendships between the most unlikely of people (4/5)
Seamless: Understanding the Bible as One Complete Story by Angie Smith – I read Seamless for the past couple of months as my devotional book, and I really enjoyed it. I think this is an amazing resource for new Jesus followers, AND those of us who have been in church since birth. Angie brings her humor, grace, and her attention to simple truths in an easy to read, concise study of the Bible as a whole (4/5).
Angel in the Rubble: The Miraculous Rescue of 9/11's Last Survivor by Genelle Guzman-McMillan – In September we had the privilege of visiting the 9/11 memorial in NYC. Along with my memories of the actual day fifteen years ago, the memorial visit will be branded in my mind forever. I've read an abbreviated account of Genelle's story before, but when I saw this book at my library, I knew I wanted to read the whole thing. Her story is powerful and devastating at the same as you hear a firsthand account of the horror of that day; I appreciated her willingness to share and her desire to make her second chance count in every area of her life; however, I did think the book may have been a bit long as the last chapters were very philosophical and felt a little repetitive (3.5/5).
Heart Made Whole: Turning Your Unhealed Pain into Your Greatest Strength by Christa Black Gifford – I've mentioned this book before when I shared about Christa's Head to Heart podcast (which I highly recommend). I savored this book, mostly because it's heavy on the emotional soul searching, and I can only do so much of that in one sitting. That being said, I'm planning on rereading it and going through the discussion questions because I believe it has and can be life changing (5/5).
Currently Reading
Let Your Life Speak: Listening for the Voice of Vocation by Parker J. Palmer – I've heard one of my favorite authors, Emily P. Freeman, recommend this book on multiple podcasts and in her writing, so I picked it up this month. Looking forward to continuing to savor this beautiful book.
Stopped Reading
Bel Canto by Ann Patchett – as Modern Mrs. Darcy talks about, I think I was reading this book at the wrong time. I kept starting it on a trip, getting few chapters in; putting it down, starting again. Then my library time was up, so I returned it, checked it back out, read the first chapters again…and I just could not get into it. Maybe in another season.
Bought this Month
Let Your Life Speak by Parker Palmer – As I said above, this was highly recommended, and I'm enjoying it so far!
Hope Heals by Katherine and Jay Wolf– snatched this one up while it was a kindle deal, and I'm so glad I did (see above).
Choose Joy by Sara Frankl and Mary Carver – Just like Hope Heals, this was a great book that I bought on Kindle on sale (see above).
Now You're Speaking My Language: Honest Communication and Deeper Intimacy for a Stronger Marriage by Gary Chapman – another Kindle deal this month, I wanted to scout this one as a future small group book. I'm a huge fan of Chapman's love languages, and I look forward to this newer one by him.
Up Next
Lip Reading by Dr. Harry Kraus — I found this book at my library by an author I enjoy. Dr. Kraus is a believer and a surgeon who writes compelling fiction about hot button medical issues. Looking forward to this one!
***
What are you reading this month?
***
All book reviews on the site: READ
What I'm Reading Posts:
***
—>This is a link-up with Modern Mrs. Darcy – find more great books to add to your TBR list by reading other bloggers' posts here <—
***
{These links are affiliate links, which means if you click through and make a purchase, I earn a small percentage. There is no additional cost to you. Thanks for reading!! 🙂 }