Christmas is right around the corner and if you're like me, you are hoping the holiday week includes some time by the fire in front of the tree with a great book. I would love to hear what your current fireside favorite reads are in the comments of this post! As for my reading life this past month — well, it hasn't been the best — school and work took over, however, I'm optimistic about the next couple of weeks! Have a very Merry Christmas!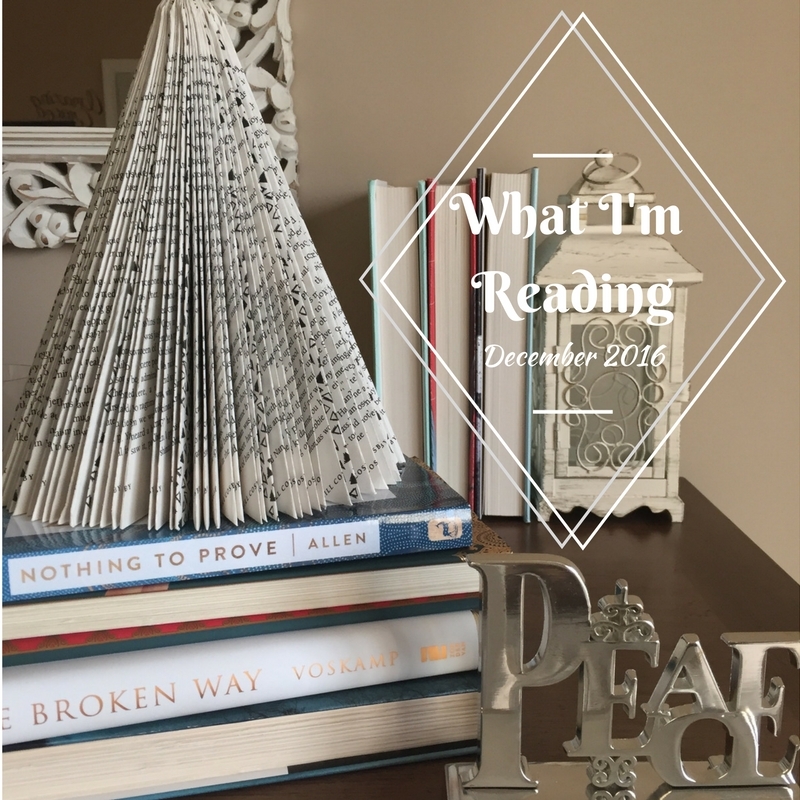 Read this Month
The Distant Hours by Kate Morton – Kate Morton is my new favorite! I mentioned in another quick lit how much I loved The Secret Keeper as well as The Lake House. While my absolute favorite of hers so far remains The Secret Keeper, The Distant Hours did not disappoint, and I loved this unique tale of three mysterious sisters who lived in a castle filled with secrets that dictated their entire lives (4/5).
Sacred Marriage by Gary Thomas – We just completed this book in small group this month, and I really enjoyed it. We were gifted two copies of this book for an engagement present, but I'm glad we didn't read it until we were a few years into our marriage. I think that fact made this book more relatable and applicable then when we were engaged and newlyweds. Great book for a small group setting or just to read with your spouse (4/5).
Truth and Beauty by Ann Patchett – Patchett's work has been recommended many times to me, and since I gave up on Bel Canto (for now) earlier this year, I've been determined to give her another try. Since I'm completely fascinated with memoirs right now, I thought this book about Patchett's lifelong friendship with another writer would be a "perfect" try-again book. I have mixed feelings. On the one hand, Patchett is a gifted writer, and I did finish the book. On the other, I did not find it relatable, and it was fairly depressing at times…still not quite sure what to think about this one, but I did appreciate the celebration of friendship and all that it brings to our lives (3/5).
Currently Reading
Falling Free by Shannan Martin – I bought this book this month when it was on sale. It is completely wrecking me in the best sense. I can hardly put it down, and I may just read it again — parts of it aloud to my husband — as Shannan's story just draws me in and challenges me in so many ways.
The Broken Way by Ann Voskamp – An absolutely beautiful book from a woman with a beautiful heart. Not only have I started reading this book this month, but I've heard Ann on three different podcasts. She's a woman who is living what she writes — and that's so inspiring to me.
Nothing to Prove by Jennie Allen – Jennie's latest book releases in January, but since I'm on the launch team, I received an advanced copy. I started it this month, and I may need to buy more highlighters since I'm tempted to highlight every paragraph. What a wonderful read for perfectionists who long to follow Jesus in freedom and embrace His grace, but never feel like they are quite good enough to deserve it.
Stopped Reading
I didn't stop reading anything this month although some of my holds ran out before I could get to them… 🙁
Bought this Month
Present Over Perfect by Shauna Niequist – I snatched this one up in the same sale in which I grabbed Falling Free. Shauna's latest has been recommended to me, oh about fifty times, since its release this year 🙂 Since I loved her other books (especially Bread and Wine), I'm looking forward to savoring this one over Christmas break.
Up Next
I'm hoping to read some over the Christmas break — I picked up a Kristen Hannah (Magic Hour) at the library this week (I loved The Nightingale so much, but haven't read any of her other work). And I'm hoping some of my holds will come in for my Kindle to have over the break!
Also — we are looking for great audiobooks for our road trip back to Texas (since there isn't another season of Serial yet! haha). Please share any of your favorites! I'd so appreciate it! 🙂
***
What have you been reading lately? Any recommendations? I would love to hear in the comments!
***
All book reviews on the site: READ
What I'm Reading Posts:
***
––>This is a link-up with Modern Mrs. Darcy – find more great books to add to your TBR list by reading other bloggers' posts here <—
***
{This post contains affiliate links, which means if you click through and make a purchase, the blog earns a small percentage. There is no additional cost to you. As always, thank you so much for reading!! }